NASHUA MITSUBISHI AUTO BODY REPAIR CENTER
SERVING THE NASHUA, MANCHESTER, LOWELL, AND NEWTON AREAS
Welcome to our Auto Body Center where we can perform the services to restore your Mitsubishi vehicle's safety, comfort, and performance. Here's where you can schedule an appointment, learn what to expect from our body center experts, the reasons for using genuine Mitsubishi parts, related collision repair information and other services we offer.
WHY BRING MY MITSUBISHI TO US?
Good question. Your first contact after an accident is often with you insurance company. While your insurance company will want to get your car or truck back on the road quickly, they also will want to get those repairs done as inexpensively as possible since they are paying the bill. Many insurance companies will have a preferred provider list (similar to a HMO doctor list). These are body shops that may have agreed to work for a lesser hourly rate and that try to reduce repair cost by using aftermarket parts. This is why it is important to choose an auto body shop like ours in Nashua, NH that has the interest of the customer, not the insurance company in mind. That's not to say that we won't work with your insurance company, we're just saying we won't cut corners.
WHY ARE BODY SHOP ESTIMATES DIFFERENT?
Most of the difference in repair estimates doesn't come from labor rates, but from parts used. Just because a fender or bumper fits properly doesn't make it a good fit for your car or truck. The quality of the materials used in making that part affects the final price. For example, it is easy to produce a replacement Mitsubishi fender that is less expensive than an OEM fender, but if it is made of a lesser quality steel to reduce price, it may not perform the same in a future accident and it can devalue your vehicle. Additionally, using non-approved parts after an accident may void your Mitsubishi warranty. We prefer to use genuine OEM Mitsubishi parts for safety and retained value.
What to Expect from us!
We'll create a written estimate of what's recommended to complete the repair, and we will offer Genuine Mitsubishi Parts. In addition, if there is other service work that is required to restore your vehicle to pre-accident condition, we have Certified Service technicians on hand. We will review this estimate with you and address any questions you may have.
Today's Mitsubishi cars and trucks employ such high tech components as multiple air bags, traction control systems, high pressure fuel systems and anti-lock brake systems. A technician that is familiar with the make and model of your vehicle, and has been factory trained in how to repair and install these systems will help ensure the safest repair possible. For example, if your accident resulted in the deployment of the airbags, not only will the airbags need to be properly replaced but the crash sensors will need to be tested. Additionally, the deployment computer will need to be tested and calibrated to accurately assess sensor input if there should be another collision. The airbag computer must decide whether or not to deploy the airbags based on multiple data input sources, the timing of which must be precise for the airbags to perform properly and safely.
At Nashua Mitsubishi our Certified Service technicians are trained to know every inch of your vehicle. We understand your vehicle and all its technical systems. We're proud to offer genuine Mitsubishi parts. We know you want to feel as good about your vehicle today as you did the day you bought it. And our Certified Service technicians have the skills and finesse you need to restore your vehicle so it will look and feel like new.
Brian Girard
Body Shop Manager
Phone : (888) 546-5511
briang@thompsonauto.net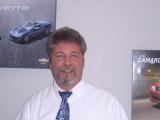 Steve Clinton
Manager
Phone : (888) 546-5511
stevec@thompsonauto.net